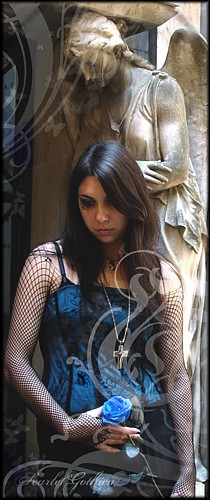 Biography
My name is Claudia and I was born in 1982 in Rieti, a small Italian medieval town, under the Appennino range, enclosed by the nearer beautiful forests and by an evergreen landscape. Since I was a child my great passion for arts and drawing grew into me, starting by myself to express my own sensations on paper. I attended the Classics School in my town, being keen on to the ancient literatures, to Greek and Roman mythology, and in particular to the Italian art history, keeping on drawing always by my own. After the High School licence, I graduated in Architecture at the Roma TRE University. From october 2006, I've also started to attend the Scuola Internazionale di Comics in Rome, a professional school for illustrators.
Inspirations
I have been a self thaught person for twentyfour years of my whole life, and in my experience I've had a lot of references that inspired me. All those things are still following me and my experience as an illustrator.
I love Renaissance painting, expecially S. Botticelli's works and the Baroque painting with Caravaggio. I like the Romantic and Decadent periods with painters as C. D. Friedrich and F. Hayez; Symbolist and Pre-Raphaelite painters, with J. W. Watherouse, G. Moreau, A. Böcklin and J. E. Millais; I like also Realism e Impressionism with A. Degas, E. Manet, P. A. Renoir and H. T. Lautrec. I love also Art-Nuveau by A. Mucha. I like A. Canova and G. L. Bernini regarding sculpture. Among architects, Iprefer A. Gaudì, L. MiesVan Der Rohe, Le Corbusier, A. Aalto, A. Siza.
About nowadays, I like so much famous artists as Brom, M. Manara, D. Clavenger, L. Royo, V. Francés, P. E. Serpieri, G. Franzella, L. Enoch, Y. Sadamoto, S. Itho, J. Madureira, K. Yuuki, H. R. Giger, K. Craft, B. Froud e A. Lee, and so many more.
But Music is my great and strong source of inspiration, infact many drawings and painting that I do, are entitled with the names of my favourite songs. I have another great passion that is singing. I do it for so long time, that it has becomes something involved in all my works. I love the Choral Song, the Opera and the Symphonic and Classical music. Also Metal music is one of my favourite. I really like also the Darkwave and Dark Atmospheric ones. The artists I appreciate most are (not in a particular order): Dark Sanctuary, Gothica, Tristania, Ophelia's Dream, Thaeatre Of Tragedy, The Vision Bleak, Therion, Ataraxia, Dead Can Dance, Emma Shapplin, Emilie Autumn, The Sins Of Thy Beloved, Lacrimosa, Cradle Of Filth, Caprice, Trobar De Morte, Faun, Draconian, Sirenia, Haggard, Artesia, My Dying Bride, Death and many more.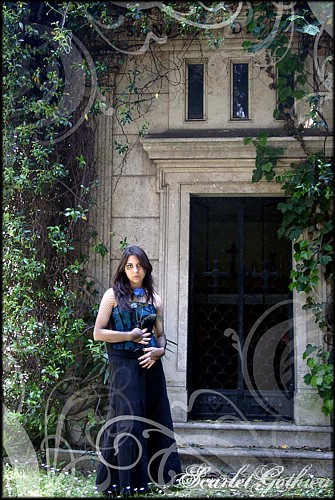 I read a lot of books. My favourite authors are H. P. Lovecraft, B. Stoker, V. Hugo, C. Baudelaire, J. R. R. Tolkien, P. Süskind, L. Carrol, J. K. Rowling, W. Shakespeare, N. Hawthorne, J.S. Le Fanu, F. M. Crawford, and all litearture and poetry with gothic, vampyric, historical and fantasy background. I also adore the classical tragedy, so Eschilo, Sofocle and Euripide; the lirical poetry, especially Archiloco and the ancient elegiac poetry (some examples are Mimnermo and Saffo) and finally Greek -Roman -Nordic epic poems.
I prefer most Theatre instead of Cinema or Television, but this does not stop me to appreciate directors as Tim Burton and his bleak atmospheres, and Stanley Kubrick too.
Another thing I like to do is writing, from brief novels and little aphorisms, to lyrics in English.
Special thanks
First of all, I would like to thank my sweet and adored Carlo: babe, without you all my life should have no sense. Thank you again to make this wonderful website, thank you to give me a pieces of my greatest dream!
Thank you, mommy and daddy, you support me everyway and every time... I love you!
Thanks Silvia, my beloved sister, to help me with English translation for this website! You're the best!
Thanks to all people that arouse within the most wonderful sensations and the greatest inspirations with their music, their poetry and their art.
And last but not least, I would like to thank all people who visit this website, write e -mails, sign the guestbook. You always make me hope the best for me and for my life with your support, comments and suggestions. Thanks a lot!